SUNDAY 17 OF JANUARY KIDS RECITAL IN BLACKBIRD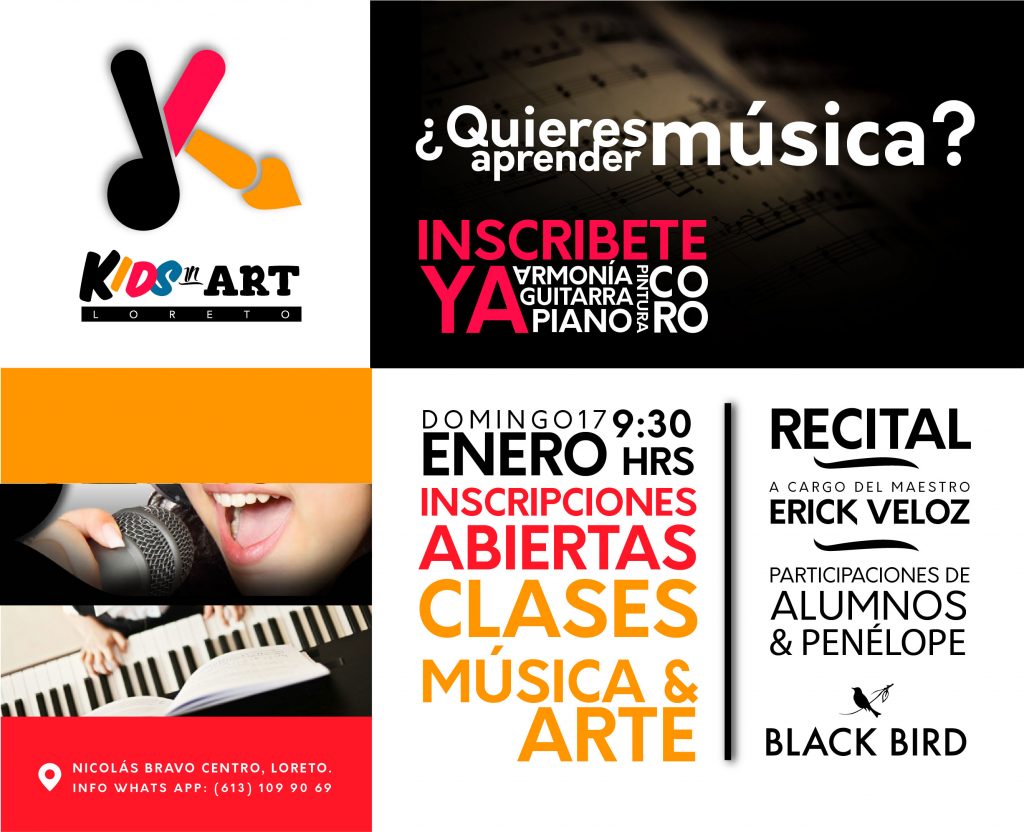 WHAT THE CLASSES ARE ABOUT?
We will have a wide variety of art classes. Piano, Guitar, Chorus, singing, percussion, harmony, painting and more.
IT'S ONLY FOR KIDS?
No !, Classes are for all ages. The scholarships of the program "Kids in Art Loreto" are only for children!
Who is in charge of the School?
Erick Veloz is the leader of the children's program.
What other teachers does the Program have?
At the moment only Erick Veloz and Penelope Anaya. Although we hope that with your support it will be possible to fund more teachers.
What academic studies do Erick and Penelope have?

Erick Veloz
He study at the "G Martell" school, in CDMX The degree in music and composition, Where he learned various instruments. He was a music teacher at the government school for approximately two years, hence he developed a love for teaching and offers personalized classes. He has 7 years of experience as a teacher and plays piano, guitar, bass, drums among other instruments.
Penelope Anaya
 
Mexican singer with contralto voice with strong predilection for folklore, jazz and blues. Graphic Designer & Visua Artist with studies from the Faculty of Fine Arts in Bursa, Turkey and the UNLA Universidad Latina de América, in México. She has two master´s degree and other studies. At her 30´s She start been full time musician, and study, Sound Recording workshop in a studio advised and endorsed by Alan Parsons in Mexico City and music theory, vocalization and music fundamentals at ProArte academy in Guadalajara.